Bill Viola Jr. is the founder and producer of the annual Pittsburgh Fitness Expo.
Bill Viola Jr. is a 1999 graduate of the University of Pittsburgh (Summa cum laude). He moved to Hollywood after graduation to work in the entertainment industry and earned acceptance into the Screen Actors Guild (SAG) and American Federation of Television and Radio (AFTRA). After working with some of the biggest names in the industry, Viola Jr. established his own production company, Kumite Classic Entertainment in 1999. The company's signature event is the self-titled "Kumite Classic," the largest most prestigious karate tournament in the region.  It has been regarded by the media as the mecca for martial arts in Pittsburgh, Pennsylvania.
Viola Jr. has served as an independent consultant for number major motion pictures including Warrior (2011).  He is an  Associate Producer, Producer, and Executive Producer for films such as the mixed martial arts inspired film Tapped (2014), The Sound, and Gridlocked.  Tapped starred former Kumite Classic champion Nick Bateman and Cody Hackman and former UFC champion's Lyoto Machida and Anderson Silva.
Viola recently team up with MinusL Productions and Academy Award® nominated documentarian Morgan Spurlock (SUPER SIZE ME) and Oscar® winning filmmaker Ross Kauffman to produce the MMA inspired "Tough Guys" set to make its network debut on Showtime September (2017).  The film was inspired by his book Godfathers of MMA which is based on Bill Viola Sr.'s days as an mixed marital arts pioneer. He has since re-released a new edition of the book titled "Tough Guys" to honor the film.  It is the #1 best selling martial arts book in America.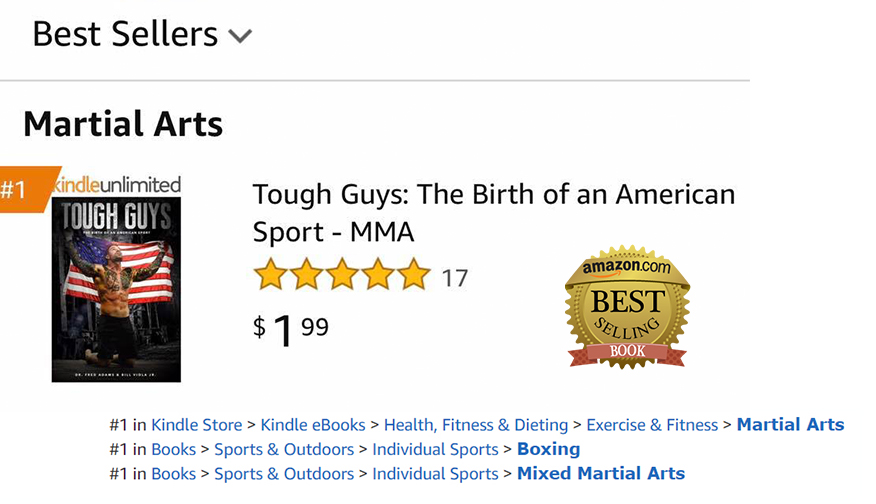 He has the unique opportunity to work with some of the most prominent stars in the industry:
—————————————————
Bill Viola Jr. is a successful author and journalist.  Go Ask Your Dad debuted on the Amazon best sellers list and the award winning and critically acclaimed Godfathers of MMA, is (available on Amazon) is the subject of the upcoming documentary film, Tough Guys (2017).  
 
-Bill Viola Jr. on the set of Pittsburgh Today Live #CBS #KDKA promoting the Pittsburgh Fitness Expo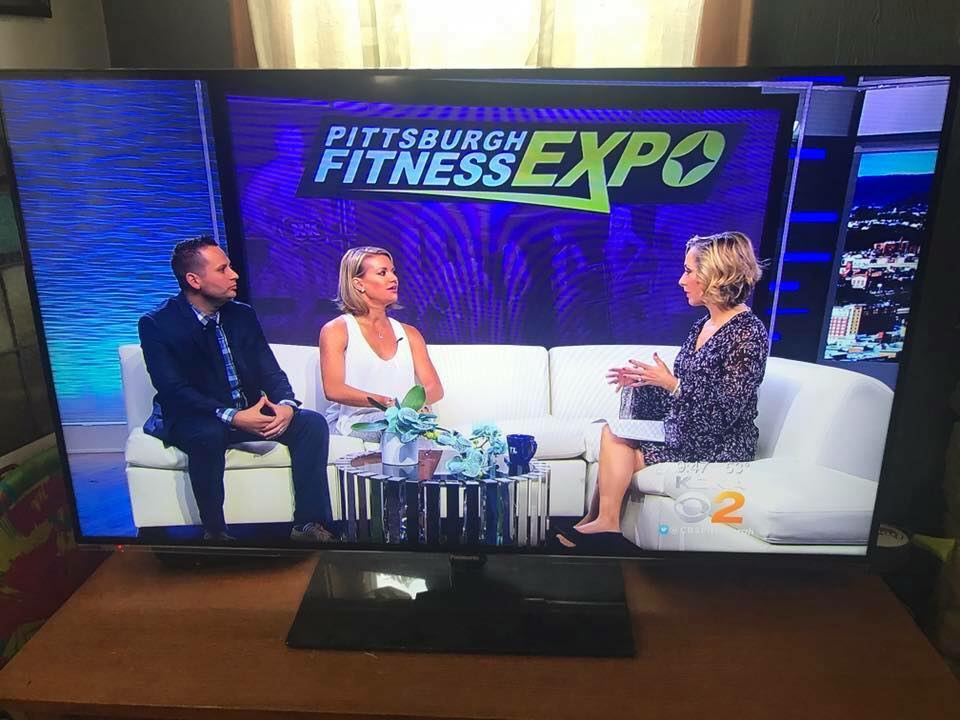 -Aubrey Worek and Bill Viola Live on the set #KDKA
Further Reading about Bill Viola Jr:
| | | | |
| --- | --- | --- | --- |
| Date | Title | Author | Publication |
| 10/6/2018 | Despite medial issues, extreme heat, 3rd annual PIND 5k a hit | Carr, Dillion | Trib Live |
| 9/4/2018 | Martial artists kick their way through research fundraiser | Pickels, Mary | Trib Live |
| 8/23/2018 | Boyce Park 5K event to raise funds for Parkinson's research | Carr, Dillion | Pittsburgh Tribune-review |
| 8/7/2018 | Karate kid Gabby Viola kicks back  | Pickels, Mary | Pittsburgh Tribune-Review |
| 7/20/2018 | Allegheny Shotokan students compete at US Open World championships | Hartlep, Bill | Pittsburgh Tribune-Review |
| 6/20/2018 | Dr. Freddie Fu Gives Karate Standout a Second Chance | Viola, Bill | UPMC |
| 6/6/2018 | The Early Years of MMA Were a 'No-Holds-Barred Freakshow'  | Bateman, Oliver | MEL Magazine |
| 4/7/2018 | Norwin's Russell shows no weakness | Dunlap, Shane | Pittsburgh Tribune-Review |
| 4/7/2018 | Whether it's softball or karate, Norwin's Russell shows no weakness | Beckner, Bill | Pittsburgh Tribune-Review |
| 3/14/2018 | Perserving Tough Guys Heritage | Holtschlag, Heather | In Community |
| 2/12/2018 | Karate School Helps Needy | Napsha, Joe | Pittsburgh Tribune-Review |
| 2/1/2018 | How to Organize a Successful Tournament | Borkland, Herb | MAIA |
| 12/23/2017 | Team Kumite earns international titles | Trib Staff | Trib Live |
| 11/30/2017 | Stepping Into The Ring: A Look At MMA's Local Roots | Hacke, Matthew | Whirl Magazine |
| 11/11/2017 | Book and Film Chronicle Brownsville Native's Creation of New Sport | Zuchowaki, Dave | Pennsylvania Bridges |
| 10/16/2017 | Tough Guys tops Amazon Charts as best seller MMA | Williams, Clem | Pittsburgh MMA |
| 10/11/2017 | Tough Guys' book an inspiring read | Guth, Jonathan | Herald-Standard |
| 10/9/2017 | Mike Murray of Colliers remembers being one of the first 'Tough Guys' | North, Kim | Weirton Daily Times |
| 10/8/2017 | Colliers man part of 'Tough Guys' movie | North, Kim | Times Leader |
| 10/4/2017 | Norwin student leads fundraising efforts to "Kick Parkinson's Disease" | Staff | Trib Live |
| 10/1/2017 | Whos Who in the Martial Arts | Bowen, Jesse | ISBN-10: 1387161539 |
| 9/21/2017 | A Tough Guy Looks Back | Himler, Jeff | Trib-Norwin Star |
| 9/15/2017 | Tough Guys Showtime Network Debut Premiere | Staff | The Palace |
| 9/15/2017 | Showtime documentary proves Pittsburgh-area early mixed martial arts fighters were 'Tough Guys' | Sciullo, Maria | Pittsburgh Post-Gazette |
| 9/15/2017 | 'Tough Guys' documentary sheds welcome light on forgotten MMA tourney that pre-dates UFC 1 | Chiappetta, Mike | MMAFighting.com |
| 9/15/2017 | Tough Guys – Amazon | Viola, Bill | KCE Press |
| 9/15/2017 | Two locals were instrumental in first MMA event | Guth, Jonathan | Herald-Standard |
| 9/14/2017 | Mixed martial arts pioneer gets TKO in Tough Guys 1980 opener | Himler, Jeff | Pittsburgh Tribune-Review |
| 9/14/2017 | Will Zullo, Henry Roosevelt, Craig DiBiase & Jamie Crowder On Their Film, "Tough Guys" | Yahoo Staff | Yahoo Entertainment |
| 9/13/2017 | Showtime's 'Tough Guys' documentary explores MMA's early roots | Stupp, Dann | MMA Junkie |
| 9/13/2017 | MMA's roots right back to Western PA | staff | Burghline |
| 9/12/2017 | Tough Guys' trace MMA's roots right back to Western PA | Harrop, Joanne | Pittsburgh Tribune-Review |
| 9/11/2017 | Before UFC, It was all about Tough Guys | Viola, Bill | Pittsburgh MMA |
| 9/10/2017 | "Tough Guys" Explores Grassroots fighting Precursosr to MMA | Gables, Rick | TV Weekly Now |
| 9/8/2017 | New Showtime Doc Tough Guys Explores Origin of MMA | TV News Desk | Broadway World |
| 9/1/2017 | Tough Guys | Staff | Showtime |
| 8/29/2017 | Showtime to Air New 'Tough Guys' Documentary on Early Days of MMA | Golightly, Justin | BJPenn.com |
| 7/24/2017 | Team Kumite trio claims gold at North American Open | Karpen, Drew | Pittsburgh Tribune-Review |
| 7/17/2017 | WAKO North American Open | Corocan, John | MAIA |
| 7/8/2017 | Tough Guys' documentary profiles local creators of MMA Viola, Caliguri | Whalen, William | Pittsburgh Tribune-Review |
| 7/2/2017 | Allegheny Shotokan named 'top team' at Kumite Classic | Staff | Pittsburgh Tribune-Review |
| 6/15/2017 | AFI Docs is your ticket to 3 world-premiere films | Kirby-Page, Kristen | Washington Post |
| 6/14/2017 | Morgan Spurlock producing MMA origins documentary Tough Guys | Brace, Samuel | Flickering Myth |
| 6/13/2017 | Morgan Spurlock to Exec Produce MMA Origins Documentary 'Tough Guys' (EXCLUSIVE) | Mcnary, Dave | Varitey |
| 6/13/2017 | Academy Award Nominated Morgan Spurlock Joins Academy Award Winner Ross Kauffman | New York (SPW) | SHOOT |
| 6/1/2017 | Wrong Place Wrong Time:  The Real Birthplace of MMA | Stagliano, Matt | Skillset Magazine |
| 5/31/2017 | Photo Gallery: 18th annual Kumite Classic & Fitness Expo | Trib Staff | Trib Live |
| 5/24/2017 | Get pumped for annual Pittsburgh Fitness Expo | Trib Staff | Pittsburgh Tribune-Review |
| 5/12/2017 | AFI Doc Interviews:  Tough Guys | AFI | American Film Institute |
| 5/12/2017 | AFI Docs Line Up Includes 'Atomic Homefront,' 'Saving Brinton,' 'Tough Guys' Premieres | Johnson, Ted | Varitey |
| 5/5/2017 | Pittsburgh Today Live | KDKA Staff | KDKA |
| 10/19/2016 | 40 Under 40: 2016 | Roddy, Dennis | Pittsburgh Magazine |
| 8/24/2016 | Book Review:  Godfathers of MMA | Guerry, Matthew | Whirl Magazine |
| 7/9/2016 | Outstanding Performance | Staff | Trib-Norwin Star |
| 6/27/2016 | How Would Reebok Have Done As A Sponsor of MMA Between 1979-1983? | Madden, Dave | MMA Wreckage |
| 6/15/2016 | Alumni News | Staff | University of Pittsburgh |
| 5/12/2016 | Pittsburgh-The Birthplace of Mixed Martial Arts Matches | Staff | Popular Pittsburgh |
| 5/6/2016 | Documentary to feature Milton's Mixed Martial Arts forefather | Little, Aaron | Santa Rosa Press Gazeette |
| 5/1/2016 | An 'Exponential' Love of Fitness | Holtschlag, Heather | In Community |
| 5/1/2016 | The Evolution of Karate:  2020 Olympics | Viola, Bill | Sport Karate Illustrated |
| 2/25/2016 | Martial Art of the Month: MMA | Bulger, Jake | Kung-Fu Kingdom |
| 2/24/2016 | From the First Days in Pittsburgh, MMA has Become the Fastest Growing Sport | Pro MMA Staff | Pro MMA Now |
| 2/19/2016 | From Pittsburgh roots, MMA, UFC have grown to staggering heights | Bloom, Elizabeth | Pittsburgh Post-Gazette |
| 2/14/2016 | Jacquet Bazemore / Top kickboxer, sparring partner for Muhammad Ali | Ove, Torsten | Pittsburgh Post-Gazette |
| 2/14/2016 | RIP Jacquet Bazemore | Viola, Bill | MMAhistory.org |
| 1/14/2016 | SFLC PODCAST EPISODE 89: BILL VIOLA SR., BILL VIOLA JR. & SERENA DEJESUS | Kowal, Eric | MY MMA News |
| 1/1/2016 | Ali vs Inoki – The Forgotten Fight that Inspired MMA | Gross, Josh | BenBella Books |
| 9/15/2015 | Tough Man Contest Mike Murray Dave Jones | Staff | Steel Nation Magazine |
| 9/13/2015 | Before MMA, Tough Guys wowed fans in A-K Valley, throughout state | Steele, Jerin | Pittsburgh Tribune-Review |
| 7/30/2015 | Dana Double Day | Viola, Bill | MMAhistory.org |
| 7/11/2015 | Mixed Martial Arts come to Meadows | Mathurin, Desiree | Pittsburgh Post-Gazette |
| 7/9/2015 | Outstanding Team | Trib Staff | Trib Live |
| 6/25/2015 | Godfathers of MMA | Viola, Bill | Amazon |
| 6/25/2015 | Godfather of MMA – Amazon | Viola, Bill | Amazon |
| 5/19/2015 | Pittsburgh Fitness Expo returning to Monroeville | Love, Mike | Pittsburgh Tribune-Review |
| 4/14/2015 | Godfathers of MMA – Birth of an American Sport | Etheridge, Pagie | Osu Magazine |
| 3/17/2015 | Family Traditions | Jones, Rachel | Whirl Magazine |
| 3/1/2015 | Lord of the Ring – World Champion Ali Viola | Q & A | Sport Karate Illustrated |
| 2/12/2015 | Karate kids: Viola family keeps kicking at World Games | Zuchowski, Dave | Pittburgh Post-Gazette |
| 2/10/2015 | Law student succeeds at Sport Karate World Games | Cardone, Jenn | Duquesne Duke |
| 2/9/2015 | For family, martial arts 'in the DNA' | Pickels, Mary | Trib Live |
| 2/8/2015 | Duquesne University law student adds world martial arts titles to resume | Pickels, Mary | Pittsburgh Tribune-Review |
| 1/30/2015 | Big Muscle in Steel City | Hawk, Dave | Muscle & Body |
| 1/14/2015 | Penn-Trafford sophomore World Karate Tournament | Smith, Nathan | Trib Live |
| 5/1/2014 | 15th Annual Pittsburgh Fitness Expo | Staff | Western PA Guide to Good Health |
| 1/22/2014 | Mt. Pleasant author helps examine mixed martial arts | Panian, A.J. | Mount Plesant Journal |
| 1/22/2014 | Mt. Pleasant author helps examine mixed martial arts | Panian, A.J. | Mount Plesant Journal |
| 1/16/2014 | Team Kumite has 'unprecedented' success | Gulasy, Doug | Pittsburgh Tribune-Review |
| 11/7/2013 | Godfather's Of MMA | Staff | Strength Figther |
| 11/1/2013 | MMA's Forgotten Forefathers | Cartey, Richard | Fighters Only Magazine |
| 9/13/2013 | CHAMPIONS GATHER | Neal, Bill | PGH Courier |
| 7/10/2013 | Martial arts workout touted as packing a punch | Gulasy, Doug | Pittsburgh Tribune-Review |
| 5/22/2013 | Kumite Classic Kicks it up a Notch | Schrecengost, Dave | Pittsburgh Tribune-Review |
| 4/20/2013 | Former Steelers wide receiver Ward honors local high school athletes | Price, Karen | Pittsburgh Tribune-Review |
| 1/25/2013 | Leader earns top karate honor | Adamski, Chris | Pittsburgh Tribune-Review |
| 10/24/2012 | The Martial Chronicles: Before Fighting Was Ultimate It Was Super | Nash, John | SB Nation |
| 10/1/2012 | Hines Ward Show | Ward, Hines | WPXI |
| 8/23/2012 | Battle of Superfighters (Tough Guys the Real Beginings of MMA in America | Cartey, Richard | Fighters Only |
| 5/30/2012 | Fitness and martial-arts enthusiasts pack Convention Center for Kumite Classic | Love, Michael | Trib Live |
| 5/29/2012 | 2012 Kumite Classic with Antonio Brown | Trib Staff | Trib Live |
| 5/23/2012 | The Martial Chronicles: Before Fighting Was Ultimate It Was Super | Nash, John | Bloody Elbow |
| 5/9/2012 | Norwin's Leader, Kemp pull down Positive Athlete Awards | Trib Staff | Trib Live |
| 4/29/2012 | Norwin junior seeks karate championship | Harvath, Les | Pittsburgh Tribune-Review |
| 4/21/2012 | 26 Honored At Western Pa. Positive Athlete Awards | KDKA Staff | KDKA |
| 3/1/2012 | 2012 Positive Athletes | Ward, Hines | Positive Athlete |
| 1/1/2012 | Exhibit Must-Sees | Madarasz, Ann | Western PA Sports Museum |
| 12/20/2011 | Pioneers of MMA | Madarasz, Ann | Heinz History Center |
| 12/5/2011 | Viola Honored for role with early MMA | Grubba, Matt | Trib Live |
| 12/1/2011 | Pittsburgh MVP | Staff | Champions Association |
| 10/1/2011 | Tough Guys | Madarasz, Ann | Western Pennsylvania History: Fall 2011, 8-9 |
| 10/1/2011 | New Sports Museum Display Explores Local Roots of Mixed Martial Arts | Madarasz, Ann | Senator John Heinz History Center Newsletter |
| 10/1/2011 | Local karate students compete in Ohio | Trib staff | Norwin Star |
| 7/4/2011 | Viola Honored As Mixed Martial Arts Innovator | Santa, John | Pittsburgh Tribune-Review |
| 6/24/2011 | MMA roots were planted in New Kensington | Werner, Sam | Pittsburgh Post-Gazette |
| 6/23/2011 | Caliguri and Viola history honored | Kogut, Paul | Trib Live |
| 6/22/2011 | UFC makes long-waited Pittsburgh debut | Stefano, Dan | Pittsburgh Tribune-Review |
| 1/14/2011 | Norwin junior claims a sport karate world title | Trib Staff | Trib Live |
| 1/6/2011 | Karate coach Bill Viola recognized by peers | Hartlep, Bill | Trib Live |
| 12/29/2010 | Christmas Kumite | Trib Staff | Norwin Star |
| 8/24/2010 | The Zuffa Myth and UFC auteur theory | Rossen, Jake | ESPN |
| 5/27/2010 | MMA Trailblazers to be honored at Caged Kumite | Hartlep, Bill | Trib-Norwin Star |
| 5/25/2009 | Kumite Karate Klassic celebrates 10 years | Neal, Bill | New Pittsburgh Courier |
| 3/26/2009 | Viola's Bring MMA Back to Pittsburgh | Hartlep, Bill | Pittsburgh Tribune-Review |
| 1/15/2009 | Illness doesn't deter karate champion | Dudurich, Mike | Pittsburgh Tribune-Review |
| 12/26/2007 | 1997 Sports Champions | NGB Reports | Slam sports |
| 5/15/2007 | Festival puts emphasis on physical fitness | Kelly, Jack | Pittsburgh Post-Gazette |
| 5/25/2005 | North Huntingdon Twp. Promoter heads Pittsburgh Sports and Fitness Festival | Cloonan, Patrick | Daily News |
| 6/13/2002 | Karate instructor passionate about foundation | Dopirak, Dustin | Pittsburgh Tribune-Review |
| 7/22/2001 | Viola poised to provide karate scholarships to youth | Hunger, Brian | Pittsburgh Tribune-Review |
| 11/4/2000 | North Huntingdon Township man hopes to hit it big in Tinsel Town | Wertz, Marjorie | Pittsburgh Tribune-Review |
| 11/1/2000 | Former Karate Champion Makes Transition to Music Video | Schofield, Melissa | Pittburgh Post-Gazette |
| 8/15/1999 | Karate duo's dreams crash before nationals  | Iovino, Jim | Pittsburgh Tribune-Review |
| 8/9/1999 | U.S. Karate Team Caputres Gold in Kumite | Staff | USOC Press |
| 3/4/1998 | Fivesome May Kick its Way to Title | MacGregor, Adam | Pittsburgh Post-Gazette |
| 2/23/1997 | Schwarzenegger Selects Irwin Karate School for Festival | Robertson, Scott | Pittsburgh Post-Gazette |
| 4/1/1993 | Laurel State Champions | Staff | Standard Observer |
| 5/5/1987 | Norwin's Karate Kid is Making Mark in World | Haky, Mike | Daily News |
| 4/9/1987 | Norwin Student Gets a Kick from Karate | Ove, Torsten | Pittsburgh Press |
| 4/5/1987 | Karate Kid Alive and Well in North Huntingdon | Junker, Guy | WTAE |
–Bill Viola Jr., Producer of Pittsburgh Fitness Expo and Founder of Kumite Classic Entertainment Corp. *press photo (released for creative commons 3.0 for free commercial and non commercial use)
-Bill Viola Jr. & Bill Viola Sr. with Royce Gracie at the 2012 Kumite Classic *press photo (released for creative commons 3.0 for free commercial and non commercial use)